I had a great weekend, did you? I know Bryan Davis must be having a great weekend. Excited about the publication of his newest book Starlighter.

Dragons are enslaving humankind and a black egg signals the end of the world. Jason Masters must journey to another realm and join forces with a slave girl named Koren to rescue the captives and save two worlds from destruction. What if the Legends Are True? Jason Masters doubted the myths: people taken through a portal to another realm and enslaved by dragons. But when his brother is taken, he must uncover the truth and find the portal before it's too late. Once he's through the portal, he meets Koren, a slave in the dragons' realm, who struggles to destroy a black egg prophesied to doom all mankind. Jason and Koren must work together to save their two worlds before the dragons learn that their secrets have been discovered.

A tale by the great story teller: Bryan Davis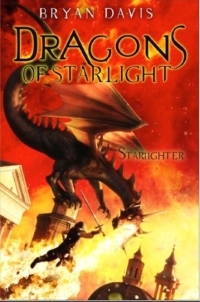 Love this cover!
Visit these links:
Starlighter
Author blog
Author Web site
I haven't read the book yet. Way behind in reading. Please visit the tour, see what the others have to say!
Brandon Barr
Beckie Burnham
Jeff Chapman
R. L. Copple
CSFF Blog Tour
Stacey Dale
D. G. D. Davidson
Jeff Draper
April Erwin
Andrea Graham
Tori Greene
Nikole Hahn
Ryan Heart
Becky Jesse
Cris Jesse
Jason Joyner
Julie
Carol Keen
Krystine Kercher
Dawn King
Leighton
Jane Maritz
Rebecca LuElla Miller
John W. Otte
Donita K. Paul
Crista Richey
SarahFlan
Chawna Schroeder
Rachel Starr Thomson
Steve Trower
Fred Warren
Dona Watson
Phyllis Wheeler
Jill Williamson
KM Wilsher